Email Your Requests

Past Guests:
(Just click to listen)

More Interviews HERE
CLASSIC MOMENTS CAUGHT ON CAMERA: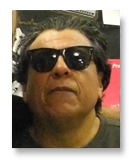 Insider - Yogi
The Breakfast Show's International Liason.
Yogi has traversed the world with everyone from Slayer and Weird Al Yankovich, to Natalie Cole. His tales from the road rival many-a good men, and the Slayer Gold Record in his name puts Yogi two steps ahead of the rest while remaining in a league of his own.
His calls from the road bring Yogala's experience to the listenership, whilst keeping the dirt under his fingernails very well documented.
From avid listener to essential ingredient... he da-man.

Welcome to The Rock n' Roll Breakfast Show




Your weekly rock n' roll exorcism hosted by The Reverend Donnie Black at Victoria, BC's only campus and community station broadcasting at 100,000,000 Watts on 101.9 FM CFUV.
Rock n' Roll Breakfast Show Online



Tune in HERE every Friday from 1-3PM PST. You will need one of two players; PC users:

FREE Winamp Player

& MAC users:

Audion Player

. It's a fairly simple process if you follow the instructions.

Listen to the September 9th episode HERE.

Sail the sands of time for blasts from Breakfast Shows past

HERE.



(During server maintenance our streaming audio may be offline. If that is the case please check back later!)
Breakfast News
GIL MOORE Doesn't Rule Special TRIUMPH Reunion Appearances
Tuesday, September 16, 2016

In a brand new interview with Classic Rock Revisited, drummer Gil Moore of Canadian rock legends TRIUMPH didn't rule out the possibility of the band reuniting to play some special shows in the future. "You never know, something like that might happen," he said. "I don't mean like a tour or anything, but I just mean, maybe for some charitable cause or something, playing a track or two wouldn't be a bad idea. I mean, it's easy for Rik [Emmett, guitar/vocals], because his chops are great. He actually plays guitar better now than he ever has in his whole life; he just keeps getting better. So it would just be a case of Mike [Levine, bass] and me rehearsing and learning a couple of songs and stuff. I'm the one who's really the hold-back because I'm so busy with Metalworks [studio] stuff. We'll see. It might happen."

Moore and Levine recently reunited with Rik as special guests on "RES 9", the new album from Emmett's band RESOLUTION9, to be released in November via Mascot Label Group.

After twenty years apart, Emmett, Levine and Moore played at the 2008 editions of the Sweden Rock Festival and Rocklahoma. A DVD of the historic Sweden performance was made available four years later.

Emmett has said in various interviews over the years that he would welcome the chance to play TRIUMPH songs with Moore and Levine again but that those two have been reluctant to commit. "If the carrot was big enough and golden enough, I think it would make Mike and Gil, but especially Gil, do it," Emmett told the QMI Agency four years ago.

"I do like playing with the guys. It's fun. And we go out for dinners together and we're hanging out again and laughing and joking. The reunion shows, for me, was the real lovely bit of us being back as friends again, for Mike and Gil much less so. For them, they don't need the playing of the music to return to the magic of the brotherhood thing. And, honestly, when I look back on it all now, doing the Sweden thing and the Rocklahoma thing, yes, there was the money, but I think it was pretty much Gil and Mike saying, 'You know, I think this will close the circle for Rik. This will be the thing that will make Rik feel the happiest that this has all happened, and that Rik will feel like it has been done right.' And so it got done and now there's really not anything compelling them to do it."

Part of the problem, according to Emmett, is a desire on the part of Levine and Moore, the latter in particular, to embark on a TRIUMPH tour of old with big venues, tons of lasers, lights and pyro — something that most view as unrealistic for an act that hasn't been an active touring entity for three decades.

"If the offer was there, and it was a solid thing, and it wasn't just speculative, then it would change the temperature of the conversation," said Emmett. "But at this point, so much of it is just speculative.

"But if you ask me, in my guts, do I still think there are one or two gigs left in us, I would say yes there is probably the likelihood that something will come along, like maybe some big charity gig, that would get the guys to say, 'Okay, we'll strap it on one more time.'"

Breakfast News
Photos From The Rev's Star Wars Wedding

The Rev has officiated a few wedding, but only once has he overseen a Star Wars theme wedding. This historical moment was captured on film; check it out HERE.
Make The Reverend your 'Friend' on Facebook!



Now you can confess your sins through Facebook by adding the Reverend to your friends list by clicking

HERE. We know that you check your Facebook more frequently than your email, so let us keep you up-to-date with what's what on the Breakfast Show.
Exorcising Your Rock n' Roll Demons Weekly
CAPTAIN BEYOND
'DAWN EXPLOSION'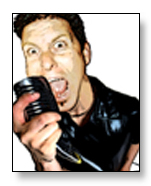 Host - Reverend Donnie Black
Donnie Black was converted to the Rock n' Roll faith at the tender age of five. Unofficially serving the Ministry of Rock n' Roll for over two decades, Donnie Black was officially ordained out of Modesto, California's ULC (Universal Life Church) April 15, 2004.
A gregarious, passionate and creative individual, the Archbishop Black brings excitement to every thing he touches. In fronting the band Zappninblack, the Reverend found his microphone a key element to having his personal maxim heard loud n' clear: "It is always better to be justified by Rock n' Roll than to be vindicated by man."
Always with an opinion and never flinching to contend for the faith, his greatest love is preaching The Word of Rock n' Roll in it's purity and simplicity.
Weather Man - Saint Pat
Irish marauders raided Pat's village at the age of 16, and he was sold into slavery. During his captivity he grew aware of thy Metal's presence, and became a defender of his faith. Upon escaping his confines, Pat is said to have illustrated the Trinity of Father, Son, and Holy Spirit by using a shamrock leaf or clover with its three strands. His mission has since lasted more than twenty years.
Pat has a cause, a passion, a purpose, and a destiny. He risked his life for thy Metal his savour. Subsequently, he retired as the Breakfast Show's weather man.
Hellion Emissary - Diabellous
Delagated from the darkside as charlatan to Mephistopheles, Diabellous is the Breakfast Show's nomad reporter challenging the norm and offering a twisted take on even the simplest things.
She usually buzzes the Breakfast Show when her clock strikes a nerve.